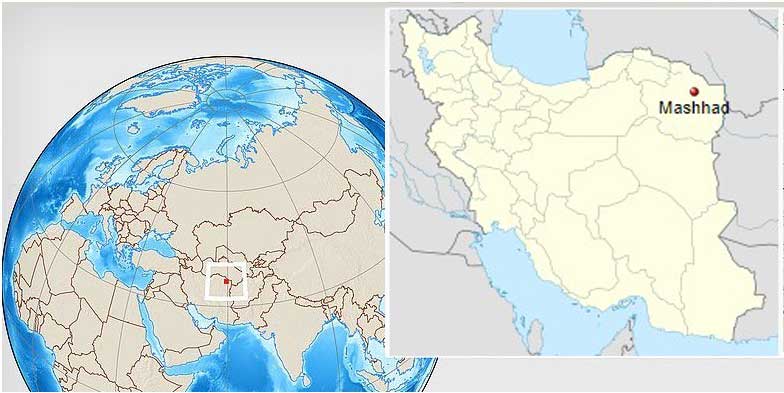 Mashhad is the second most populous city in Iran and the capital of Razavi Khorasan Province. It is located in the northeast of the country, close to the borders of Turkmenistan and Afghanistan. Its population is over 3,000,000.
The city is most famous and revered for housing the tomb of Imam Reza, the eighth Shia Imam. Every year, millions of pilgrims visit the Imam Reza shrine and pay their tributes to Imam Reza.
Mashhad is also known as the city of Ferdowsi, the Iranian poet of Shahnameh, which is considered to be the national epic of Iran. The city is the hometown of some of the most significant Iranian literary figures and artists such as Mehdi Akhavan-Sales, the famous contemporary poet, and Mohammad-Reza Shajarian, the traditional Iranian singer and composer. Ferdowsi and Akhavan-Sales are both buried in Tus, an ancient city that is considered to be the main origin of the current city of Mashhad.
Geography and Demographics
The city is located at 36.20º North latitude and 59.35º East longitude, in the valley of the Kashaf River near Turkmenistan, between the two mountain ranges of Binalood and Hezar-masjed. The city benefits from the proximity of the mountains, having cool winters, pleasant springs, mild summers, and beautiful autumns.
The vast majority of Mashhadi people are ethnic Persians, who form over 95% of the city's population. Other ethnic groups include Kurdish and Turkmen people who have immigrated recently to the city from the North Khorasan province.
Economy
Mashhad is Iran's second largest automobile production hub. The city's economy is based mainly on dry fruits, salted nuts, saffron, precious stones like agates, turquoise, religious souvenirs, termeh, carpet, leather and rug. Among the major industries in the city, there are nutrition industries, clothing, leather, textiles, chemicals, steel and non-metallic mineral industries, construction materials factories, handicraft industry and metal industries. With more than 55% of hotels, Mashhad is also the hub of tourism in Iran. In the geography of tourism, religious places known as the most powerful hub to attract travelers around the world, every year 20 to 30 million pilgrims from Iran and more than 2 million pilgrims and tourists from around the world come to Mashhad.